Atrium and The Boy James, Belt Up Theatre
4:24pm Friday 24th June 2011
By Charles Hutchinson

THESE two new plays from the York Theatre Royal company in residence made their debut at the 2010 Edinburgh Fringe as part of Belt Up Theatre's bold project The House Above: ten devised works performed in different rooms of a purpose-built house.

They are united again this week, each staged in a cluttered study and linked by not only a common theme of the artistic mind, life and loss, but also a desire to release the imagination and heaps of audience participation. A couple of the cast overlap too, as do certain actions, such as pouring a drink from a decanter and hitting a head violently on a table, and the influence of fantasy is pervasive.

Written by James Wilkes, the charming yet anarchic orchestrator of Belt Up's reinventions of The Tartuffe and The Beggar's Opera, Atrium comes from the experimental end of the company's spectrum: the absurdist Monty Python/League of Gentlemen end that more divides opinion like Marmite.

Wilkes blurs the line between fact and fiction on a "surreal journey through the subconscious mind of ageing artist Malcolm Kinnear as his self-obsession tears apart the life around him". Such a part could only be played by Belt Up's master of the deluded, the deranged and the despicable, Dominic J Allen, a provocateur with Macbeth and Mr Peachum on his CV already.

Under the direction of Jethro Compton, he is an even looser cannon here, and yet such is Allen's dangerous energy, quick wit and cabaret MC skills that he keeps you onside as Kinnear indulges in flights of fancy to drive beyond distraction his biography writer, Paul (or is he Simon?, as he equally often calls him), played by Wilkes. The women of the piece,Serena Manteghi's Pennie in a hotdog suit, and Lucy Farrett's servant girl Butter, are pulled hither and thither by Malcolm's twisted need to make his life sound more interesting.

The play follows the same trajectory, never quite climaxing. However, then comes one of the best pieces in Belt Up's rapidly expanding portfolio, Alexander Wright's The Boy James, a haunting story of playful innocence and cruel experience woven around the life of Peter Pan author JM Barrie, directed with devastating impact by Allen.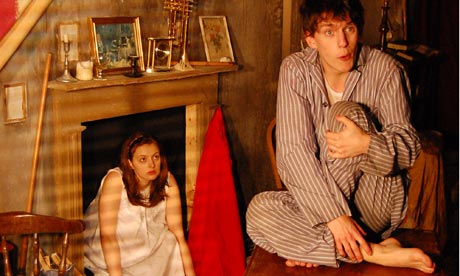 Initially, the audience is cajoled into childhood games by Jethro Compton's pyjama-clad, wide-eyed Scottish boy James, but playfulness makes way for darker materials: the harsh arrival of adulthood, as represented by Wilkes's older James and Farrett's Girl undergoing her sexual awakening under the influence of "poison" (alcohol) with an unwilling boy James. The inner child in us all slinks away, crushed by the innocence-terminating letter from the adult James, read by a man drawn out of his front-row seat by the boy's pleading.
No wonder a certain Mr Stephen Fry felt moved to tweet "Just been knocked out by The Boy James. Still drying my eyes" upon seeing it last year. A second Edinburgh run and five-star reviews await from August 3 to 29.